Company profile
---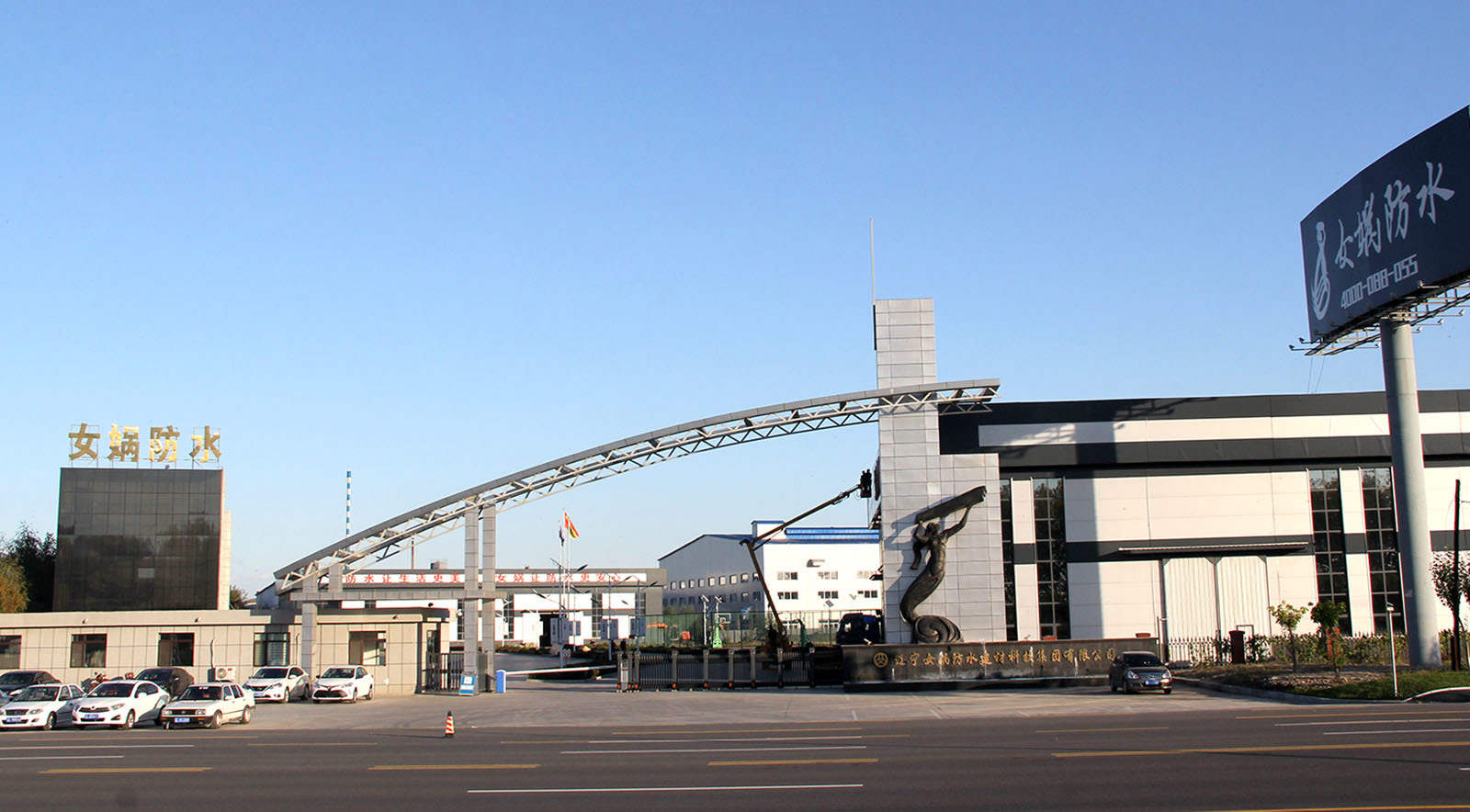 Liaoning Nuwa Waterproof Building Materials Technology Group Co., Ltd. was founded in 1998. Together with the third largest oil field in the country, Liaohe Oilfield, it is located in Panjin, Hexiang, which is rich in resources and has an open coast. It has now developed into a collection of scientific research and development, professional production, overall A large-scale waterproof building materials high-tech enterprise integrating marketing, design and construction.
The group has 4 multi-functional automatic modified asphalt waterproof material production lines, 2 sets of polymer production lines and 30,000 tons of environmental protection production equipment for architectural chemical coatings. The annual design and production capacity of SBS, APP, self-adhesive and functional waterproof materials is 80 million square meters, polymer sheet is 20 million square meters, polyurethane series, cement-based series, asphalt-based series, acrylic series, spraying quick-setting series And 30,000 tons of construction chemical environmental protection coatings such as plugging. Nuwa Group currently has more than 100 varieties of six categories of construction waterproof materials, engineering waterproof materials, anti-seepage materials and special waterproof materials, which can meet all the needs of different users in the construction and engineering waterproof and anti-seepage markets.
The group has invested heavily in the introduction of AD production technology from the United States and FT asphalt modification technology from Canada, and the complete set of production equipment has advanced international and domestic levels. Program-controlled feeding system, dip coating control system, molding control system and other complete sets of devices and production processes have fully realized computer automation control and closed operation, and realized all computer control of metering, temperature control, feeding and process; the production line is the first in the industry to adopt fully closed The type glass cover device collects the flue gas to a greater extent, and truly achieves a clean and civilized production. The collection, purification and separation of the whole set of environmental protection devices form a closed-loop treatment system, and the asphalt fume is discharged up to the standard after being treated by spray dust removal, dehydration and drying, activated carbon adsorption, electric capture purification, and photo-oxygen catalysis.
Technological innovation has become the driving force behind enterprise development. The group hired Sun Xuezhao, a well-known domestic waterproof expert and professor-level senior engineer, as the technical leader. The company always adheres to the strategic policy of revitalizing the enterprise through science and technology, recruits scientific and technological talents, enriches the scientific and technological team, and continuously improves the ability of technological innovation and new product development. Every year, the company sends technicians to the national and provincial technology research and development departments to study, and participates in overseas inspections and technical exchanges organized by the China Building Waterproofing Association to understand the domestic and foreign technology development trends, broaden their horizons, and ensure technological innovation and sustainable development. In 2015, Nuwa Group and Shenzhen Tsinghua University Research Institute jointly established the "Nuwa Waterproof Technology Center of Shenzhen Tsinghua University Research Institute".
The technology center was named "China Building Waterproof Industry Standardization Laboratory" and "Municipal Engineering Technology R&D Center". The technology R&D center has more than 100 senior R&D personnel, the usable area is over 2,000 square meters, and the usable experimental equipment is worth over 20 million yuan. The "QQC" double-sealed waterproofing system developed in 2017 is a new type of composite waterproofing top technology. It combines the QQC super-stick rubber asphalt waterproof coating and the QQC double-sided self-adhesive membrane. Deformation makes the membrane and the base layer form a 100% fully bonded waterproof layer, eliminating the channel of water channeling, and improving the reliability and safety of the waterproof system. QQC Super SBS waterproof membrane has excellent elasticity, permeability and ductility, and the peel strength is more than 2 times that of ordinary materials, which can significantly improve the full viscosity ratio of the membrane and the base layer, and solve the problem of water penetration of the waterproof layer. "QQC Speedmaster SBS" truly achieves "building does not fall down, waterproof and leak-proof". Nuwa Group has formed a product and application system dominated by "QQC series made by Tsinghua Zhihua", occupying the forefront of waterproof technology.
Nuwa products have been successfully used in industrial and civil construction, subway, high-speed rail, tunnels, municipal engineering and other major fields, and the products are distributed in 32 provinces, autonomous regions and municipalities directly under the Central Government in Northeast China, North China, South China, Central China, Southwest China and Northwest China. The products have passed the "CRCC Railway Product Certification" with strict quality inspection and the "China Environmental Labeling Product Certification" with very strict environmental protection standards. In May 2017, during the period when the national environmental protection supervision entered Liaoning, it became the only waterproof enterprise in the province that meets the environmental protection standards and produces continuous production. .
The "Jing-Zhang Railway" built by China's first railway engineer Zhan Tianyou now has a speed of more than 350 kilometers per hour, and the "Huaxia Nuwa" brand of modified asphalt waterproofing membrane for high-polymer high-speed railways is selected; the Beidaihe Waterworks Project undertaken by Beijing Urban Construction Group, Adopt "Huaxia Nuwa" JS waterproof coating and self-adhesive SBS waterproof membrane; Changchun Beihu Spring adopts "Huaxia Nuwa" three-dimensional and colorful modified bitumen waterproof membrane and QQC-001 super SBS elastomer modified bitumen waterproof membrane ; "Beijing-Shenzhen High-speed Railway", one of the national "four vertical and four horizontal" passenger lines, adopts polyurethane waterproof coating for high-speed railway; Shenyang Tiexi pipe gallery project adopts "Huaxia Nuwa" brand QQC-973 cross-laminated film wet-laid polymer Waterproofing membrane and QQC-974 polymer self-adhesive film waterproofing membrane; Tieling Fenglinju adopts "Huaxia Nuwa" brand TNW green core waterproofing membrane, non-curing waterproof coating, root puncture resistant SBS waterproofing membrane; Hunan Tongtong The construction site adopts "Huaxia Nuwa" brand SBS modified asphalt waterproof membrane and polyurethane waterproof coating; CRSC Railway Transportation R&D Center, Yandong Group Chengde Prefabricated Housing Project, Henan Longfeng Tanning Products Storehouse, Beijing Jinke Palace, etc. The engineering projects also use the "Huaxia Nuwa" brand waterproof material. Nuwa Group's various waterproof materials are widely used in the national market and have been well received by users.
The group has signed annual supply contracts with a number of high-end brand raw material suppliers, and the two parties have long-term cooperation to establish a stable and friendly cooperative relationship. Shop around, compare quality from superior to superior, to ensure high-quality, timely and adequate supply of raw materials. There are 5 raw material storage tanks in the factory, with a storage capacity of 5,000 cubic meters; the storage capacity of the group's warehousing company reaches 28,000 cubic meters; the huge storage capacity makes the product quality more stable, the cost is reduced, and it is less affected by the market price. The finished product storage warehouse adopts advanced three-dimensional shelves to realize modern warehouse management, which can meet the storage of 3 million square meters of coiled materials.
Liaoning Nuwa Waterproof Construction Engineering Co., Ltd., a subsidiary of the group, has the first-class qualification of national waterproof, anti-corrosion and thermal insulation, has professionally trained waterproof construction team and rich waterproof construction experience, adopts modern waterproof construction equipment, and the construction process is completely standardized. Standardization of construction management improves construction efficiency, shortens construction period, and has traceability in later management; standardization of construction technology makes construction operations unified, appearance beautifies, and meets relevant specifications and quality requirements.
The group has formed a nationwide marketing service network. The products are widely used in waterproof, moisture-proof, anti-corrosion, anti-seepage and other projects on building roofs, underground, subways, tunnels, bridges, swimming pools, grain depots, and planting roofs. The marketing technology service network of more than 70 service sites across the country, under the unified scheduling of the marketing center, is rapidly linked, and the technicians are guaranteed to arrive at the scene within 24 hours. Pre-sale: From project material selection, plan formulation, price comparison to construction suggestions, Nuwa Group considers the cost-effectiveness of products from the perspective of partners, and formulates feasible waterproof construction plans. On-sale: ensure timely supply, on-site guidance, personnel training, technical troubleshooting, follow-up by special personnel, etc., to ensure the quality of the project. After-sales: Collate data, feedback information, and return visits regularly to provide accurate data for the next cooperation between the two parties.
Relying on its good reputation and high-quality product quality, Nuwa Group has successfully entered the China Grain Storage Product Purchasing Platform. In 2016, Nuwa Group and Zhejiang Jujiang Holding Group became strategic partners. Nuwa Group has 18 national patents, and has participated in the compilation of 10 national standards and technical regulations such as "Wet-laying Waterproof Membrane" and "Technical Regulations for the Application of Waterproof Materials in Urban Integrated Pipe Gallery Projects". It has won nearly 100 awards such as "AAA Credit Enterprise", "Double Guarantee of Quality and Credit", "Top 500 National Engineering Building Materials Brands", "Integrity Enterprise in Building Materials Industry in the Bohai Rim", "China Green Energy Saving and Environmental Protection Brand", etc. . Ranked No. 1 in the national 2018 national 500 building materials supplier selection online voting.
Nuwa people always adhere to the business philosophy of "beginning with user needs, and finally user satisfaction" and the service concept of "use my sincerity, carefulness, and patience to exchange your peace of mind, peace of mind, and comfort", and adhere to "waterproof makes life better, Nuwa Make waterproof more secure" enterprise purpose and "exploitation, truth-seeking, hard work, innovation" enterprise spirit, to create a "Huaxia Nuwa" Chinese national brand with excellent quality, to create a "well-designed, standardized construction, strict supervision, professional service" "Construction service brand.
Nuwa people operate with integrity and dare to be the first. We aim to become "the world's leading waterproof solution provider" and continue to expand the business scale of the company! Nuwa Group pursues excellence and climbs to new heights forever, and has entered the fast lane of rapid development! Nuwa Group will make every effort to rank among the advanced ranks of waterproof enterprises in the country, and strive to build a large-scale and modern large-scale enterprise giant ship, leading the waterproof industry to create brilliance together!